Benefits of Buy Here Pay Here Dealerships
Posted Monday, Nov 02, 2020
Bad credit? No Credit? Need a vehicle but can get a typical vehicle loan? There are benefits of buy here pay here dealership financing and leasing.
What is Buy Here Pay Here Dealership?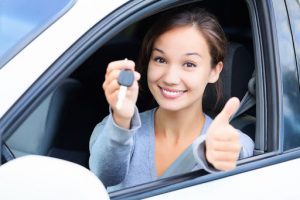 A buy here pay here dealer will sell and finance the vehicle themselves instead of sending you to a lender for an auto loan. Auto lenders are typically banks, credit unions, or online finance companies. The typical lenders will work fine if you have good or excellent credit. For those who have poor, or less than perfect credit these types of lenders will not work. However, a buy here, pay here dealer will finance the vehicle you buy from them.
The interest rate of the buy here pay here dealership might be higher than typical lending sources. However, if you cannot get a loan with other sources or need a vehicle quickly it is the best way for you to purchase a vehicle.
Buy here, pay here can also be used as a lease option. This option can have benefits that purchasing does not. You will have to speak to the dealer about the terms of the lease. Ask what happens at end of the lease, do they take the car back or do you have the option to purchase.
The Benefits of Buy Here Pay Here Dealerships
There are benefits for people who cannot secure traditional financing.
The benefits are:
They generally do not even look at your credit score, so for people with bad credit or no credit, you will still qualify for used vehicle financing as long as you have employment
The process is quick and easy, and you will drive your car off the lot that day. For the typical lenders, it can take up to three days or more before you are able to drive your car home
The payments may be and generally are less than an auto loan payment, auto loans are generally done over a three to five-year term
While you purchase or lease an auto from buy here pay here dealers you can use the money you're saving on the payment amount each month to help repair or build your credit score
What will you need to purchase a vehicle at a buy here pay here dealership in the Kansas City area? Proof of income such as the last four pay stubs, a photo id, and a down payment.
This system can work for you especially if you need a car quickly to get to work. You can work on repairing your credit or building credit through other means while you purchase or lease the car.
What to Look for in a Buy Here Pay Here Dealership
If your credit is not good enough to get a normal auto loan, a buy here pay here dealership may be the way to go but how do you know which one to choose?
You need to ask the following questions before deciding which buy here pay here dealer to use:
Are the lease options different than purchase options, is it a weekly amount plus miles, or what exactly are the payments?
What is the down payment? Does leasing need a down payment?
What is the interest rate? Are there interest charges on the leasing option?
Do you report payments to the credit agencies?
What if I am laid off or miss work because I have a medical issue? Will you work with me on adjusting my payments until I am back to work? Will I be able to end the lease during this time of being off work?
Check their reputation with the BBB and local people who have dealt with them already.
Do you put a tracking locking device in the car?
What is the payment schedule meaning weekly, bi-weekly, or monthly?
Is there a warranty on the car and be specific as to what if the car has a major mechanical issue such as transmission or engine problem that I do not cause?
If there is a warranty how long is the warranty?
You will have to decide which issues you want most. For example; if they report payments to credit agencies and are willing to work with you on payments if you are laid off or have a medical issue then you may be willing to forgo the warranty and deal with the higher interest rate to purchase a vehicle.
One other thing you will need to do is look the vehicle over thoroughly. If you do not know anything about motors and transmissions, take someone with you, who does. You and your mechanic friend should test drive it before making a commitment. This way, you will know what maintenance you may need to budget for in the future.
Leasing from a Buy Here Pay Here Dealership
Instead of buying, try leasing a car from a buy here pay her dealership. Some of the buy here pay here dealers will offer lease options. City Wide Motors in the Kansas City area offers leases with a free 12-month, 12,000-mile powertrain warranty that covers all internally lubricated parts: engine block, heads, and intake/exhaust manifolds and a limited power train transmission warranty that covers all internally lubricated parts: gear cases and housings, and free oil changes through the life of the lease.
The bottom line is; know what your credit score is, what type of loan you are getting, and if the vehicle you want is in good shape, the price is not overly high for its condition, and what the payments will be or the terms of the lease.
The buy here pay here lease can be a great deal should you need a vehicle quickly to get you back to work. It's a great solution when you need to get a reliable vehicle fast.
If your credit is less than perfect, but you can budget your money to make payments, then a reputable buy here pay here dealer may just be exactly what you need. For some, buy here pay here is truly the best option to purchase a car, especially if they need a car quickly. Just do your research first. Then decide, whether a purchase or lease will be the best deal for you.
Visit us, City Wide Motors, in the Kansas City area for a good buy here pay here dealer to help you with your purchase or lease option. Check our used vehicle inventory.